Zero waste travel: Padova
Of the cities I've visited in Italy, Padova (Padua) has to take the cake for zero waste resources. While other cities have their own secondhand stores and package free shops, they are usually widely dispersed and not easily accessed by visitors. I found so many resources in Padova to be central enough that even as a visitor in the city I was able to reach them with just a bit of walking.
If you're in Italy long enough to visit some of the smaller cities, take a walk through Padova and check out the following:
Padova card
If you're looking to really explore the city's museums and sites, this might be a good choice for you. Padova card gives you access to Cappella degli Scrovegni, Oratorio di San Rocco, Battistero del Duomo, and many other sites. Another bonus is free use of the public transit within the city run by Busitalia. Getting the city card can help you avoid all of the receipts and tickets associated with attending multiple museums and attractions. I inquired with the tourism office in Padova, and the card is "cartacea" (a paper product), meaning you can definitely prevent some paper waste by choosing a single card over multiple bus and museum tickets.
Fontanelle
Padova also has fountanelle, or public fountains, you can use to refill your water bottle. They seem to mostly be concentrated around Prato della Valle, but I didn't come across any just walking through the city. If you're planning a long day out, I would suggest being attentive and trying to end up in an area with fountains after a couple hours to refill your water bottle.
TRAINS
As always, I'm going to recommend you try the Trenitalia app for your train tickets. You can purchase tickets and view train schedules from the app and then show the ticket on your phone. That is, if your ticket gets checked (it doesn't always happen). I used my phone for all my trains to and from Padova
Friendly shop
My trip to Friendly Shop was a wonderful surprise. I had a lovely chat with Caterina, the owner, and I was so impressed by the products that were available. Friendly Shop is the first zero waste store in Italy and has the basics, such as stainless steel water bottles, up to things that might serve you further along your zero waste journey, like Guppyfriend bags to help prevent microplastics leaching from your clothes into the water. Of course, for any needs you might have specifically while traveling, there were plenty of nicely scented soaps, shampoo bars and creams.
On their bags it says "Cambia abitudini, non planeta", which means "changes habits, not planets". I think we can all get behind that.
La Bottega Sfusa
This is a package free shop if ever there was one; it's in the name. Sfusa means without packaging. From the website it says:
The translation (by yours truly) : "The products in the bottega are mainly package free and organic in order to bring together both quality and fair prices in respecting nature. You'll find pasta, rice, grains, cereal, legumes, spices, seeds, dried fruits, and super foods as well as infusions, coffee, oil, honey, jams, spice mixes, breads, sweets and savories. There's also a special space for package free cleaning products and personal products, and for organic cosmetics."
La Bottega Sfusa has a big variety of products, which are (of course) package free. Take a night in while traveling and cook with some package free ingredients sourced here.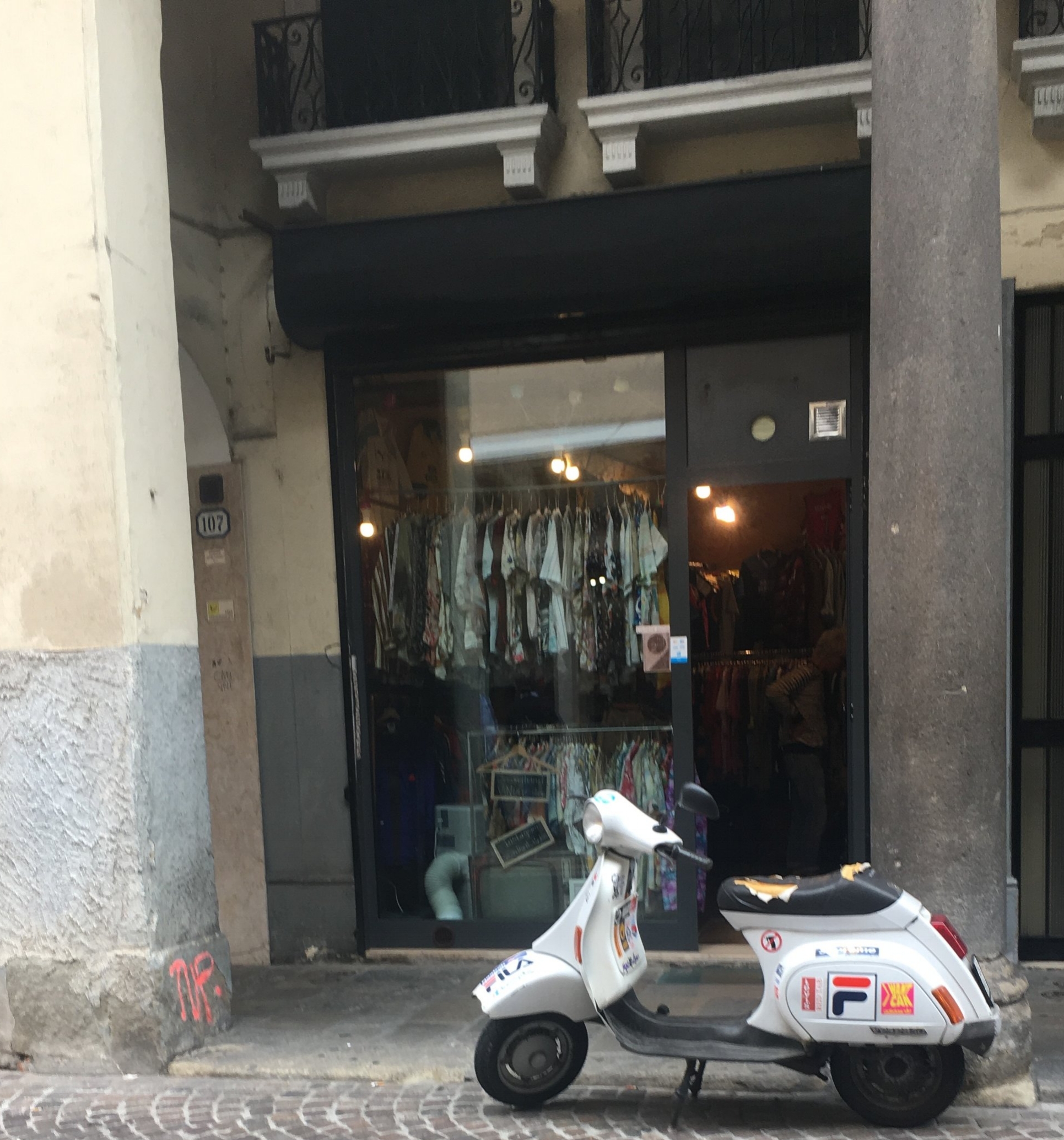 Secondhand Padova
I found this store through la Rete Zero Waste (zero waste network), and although it wasn't my scene, you might find exactly what you need there. The (tiny) store sells secondhand clothes, most of which seemed to be in the 90s-is-back vein of style (I saw lots of jerseys and tee-shirts). There was no sign outside, so be on the lookout if you go here!
Foxy Brown Vintage
If you're in need of any clothes and like true vintage style, it's worth the walk here. It's a charming store with already-loved clothes and shoes that align with the values of zero waste. I only advise you to be wary of timing for your own visit because when I went the hours included closing midday.
LUSH
There's a Lush in Padova. While going to Lush alone isn't zero waste by itself, if you happen to forget anything on your trip or lose your soap, it's an easy way to ensure you can get (nearly) package free beauty products. For the sake of bring redundant, it's just another resource for you. Personally, I'd recommend you check out Friendly Shop first.
Save travels! If you're interested in more ways to rock zero waste travel in Italy, check out the following posts: